Welcome
Calvary Chapel Fuchu is a fellowship of believers that exists to glorify God. We desire to be like the early church in the book of Acts. Acts 2:42 is our model verse and tells us that the early church met together often to study God's Word, to pray together and to fellowship with one another.
Sunday Morning Service
日曜礼拝
8:30
and
 10:30
Bilingual (English-Japanese)
Childcare Provided
バイリンガル
英語〜日本語
チャイルドケアあります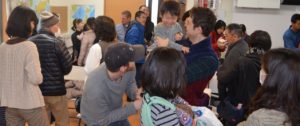 Friday Evening Bible Study
金曜日
バイブルスタディー
19:30
Bilingual (English-Japanese)
Dinner and Childcare
バイリンガル
(英語〜日本語)
夕食とチャイルドケア
ようこそ
ユダヤ人とギリシヤ人との区別はありません。同じ主が、すべての人の主であり、主を呼び求めるすべての人に対して恵み深くあられるからです。「主の御名を呼び求める者は、だれでも救われる」のです。
ローマ10:12-13
For there is no distinction between Jew and Greek, for the same Lord over all is rich to all who call upon Him. For whoever calls on the name of the LORD shall be saved.
Romans 10:12-13
​God Bless You,
​Pastor Rich Rose